October 22 — November 1, 2020
Square in front of the Teatr Polski, Poznan, Poland
Installation Social Marble: Scenery
Sergey Shabohin:
installation in public space
Social Marble: Scenery,
square in front of the Teatr Polski,
Pоznan, Poland, 2020
Pomnik Lenina

Białoruskie władze często odwołują się do sowieckiego dziedzictwa i mitologii. Ślady Związku Radzieckiego można znaleźć w niemalże wszystkich sferach publicznych – w gospodarce, edukacji, wojsku i kulturze. Świadome, krytyczne procesy oddzielania się od "sowietu", włączające w swe działania instytucje i praktyki, niemalże nie istnieją. W Białorusi wciąż stoi ponad czterysta pomników Lenina. Najbardziej monumentalny z nich – Lenin na cokole – znajduje się na Placu Niepodległości przy Domu Rządowym w Mińsku. Pomnik ten jest "uświęcony": nie wolno go fotografować, nie można podejść do niego od tyłu, po jego schodach mogą wspinać się jedynie przedstawiciele władz.
W stworzonej przeze mnie instalacji mit radziecki, na którym opiera się władza państwowa współczesnej Białorusi, jest przedstawiony w formie pustego cokołu. W przeciwieństwie do pierwowzoru, instalacja została wykonana z tanich materiałów: sklejki i folii z marmurowym nadrukiem.
Zasłona / ekran / scenografia

Marmur społeczny
ujawnia różne warstwy znaczeniowe. Przedstawia pustą skorupę białoruskiej ideologii, opartej na micie radzieckim jednocześnie stanowiąc metaforę zasłony przykrywającej przemoc białoruskich władz. A w kontekście miejsca – placu przed teatrem – staje się szczególną społeczną scenografią.
Praca ta jest zaprojektowana jako interaktywna instalacja dla wszystkich osób chcących przyłączyć się do białoruskiego pokojowego protestu. Chciałbym, by mieszkanki i mieszkańcy Poznania stworzyli na instalacji wystawę, na którą złożą się rozmaite formy wyrazów poparcia dla protestujących w Białorusi: hasła, plakaty, banery, notatki, rysunki, przemówienia, kwiaty i świece. Zaś podest, na którym znajduje się instalacja, niech stanie się sceną dla performatywnych wypowiedzi ludzi, którzy nie są obojętni na to, co dzieje się w sąsiednim kraju – żywą sceną aktów solidarności z Białorusią.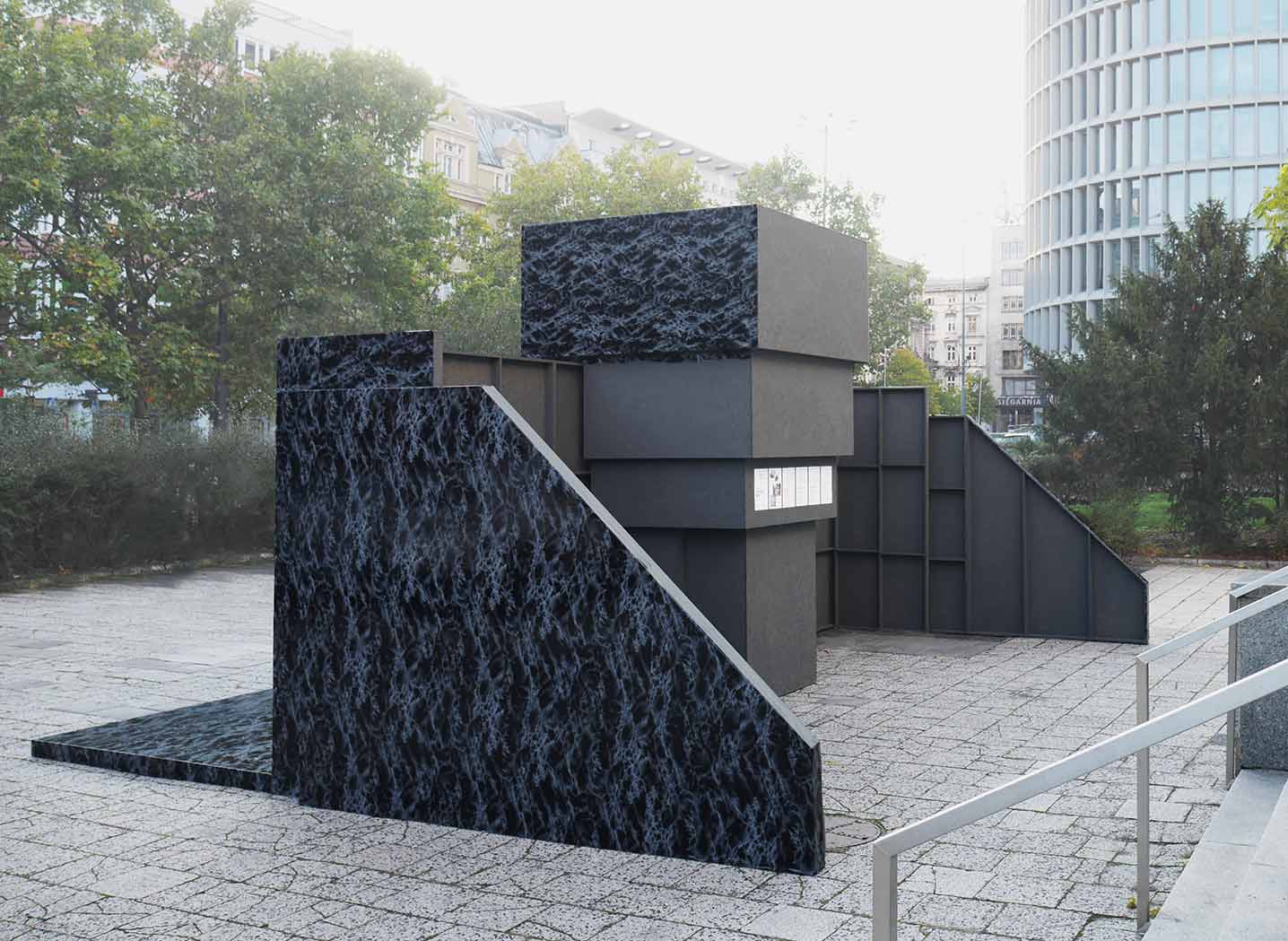 Białoruska rewolucja

Po rażąco sfałszowanych wyborach prezydenckich w Białorusi, od sierpnia 2020 nie ustają protesty. Społeczność międzynarodowa podziwia wytrwałość, kreatywność, kulturę i nieustraszoność protestujących. Obywatele Białorusi domagają się przedterminowych uczciwych wyborów i postawienia przed sądem tych, którzy uczestniczyli w ich fałszowaniu, a teraz stosują przemoc wobec własnych rodaków: zabijają, okaleczają i gwałcą.
Pokojowe protesty nasilają się każdego dnia, tworząc silniejsze i bardziej złożone łańcuchy solidarności i wzajemnego wsparcia. Setki tysięcy ludzi z całej Białorusi regularnie wyrażają swój sprzeciw na głównych placach i ulicach, co było nie do pomyślenia przed wyborami. To niesamowite zwycięstwo. Już kilkakrotnie protestujący zajęli Plac Niepodległości, na którym "święty" pomnik Lenina zamienił się w spontaniczną, aktywistyczną wystawę złożoną z plakatów i transparentów. Na jego cokole, pełnym biało-czerwonych świec i kwiatów, protestujący wykrzykiwali wolnościowe hasła, śpiewali piosenki i aranżowali przedstawienia.
Marmur społeczny

Instalacja stworzona przeze mnie przed Teatrem Polskim w Poznaniu wpisuje się cykl prac pod tytułem
Marmur społeczny
, opartych na obserwacji służb porządkowych mińskiego metra. Pracownicy służb – nie mogąc zmyć pigmentów graffiti wżerających się w marmurowe ściany podziemnych korytarzy metra – zaczęli pokrywać je folią imitującą ten kamień. Folia taka jest używana do zabezpieczania blatów kuchennych, czy lad sklepowych – to tani, dostępny dla każdego materiał – "marmur socjalny".
Takie działanie stanowi wielowymiarowy obraz struktury politycznej współczesnej Białorusi, w której "kapitalistyczne" graffiti tak głęboko wgryza się w "radziecki" marmur, że nie da się go zmyć – można je jedynie przykryć chińską folią.
Prawdziwy marmur w swojej strukturze jest wynikiem skomplikowanych procesów – regularnych i chaotycznych zarazem, podobnie jak procesy społeczne. Obiekty, instalacje i rzeźby z cyklu
Marmur społeczny
powstają z tanich, przeważnie pustych w środku materiałów i są oklejane folią imitującą tytułowy szlachetny kamień. Obrazują współczesne mity i historyczne mistyfikacje Białorusi.
Sergey Shabohin
September 18 — Oktober 3, 2020
Andrey Anro, Zhanna Gladko, Mikhail Gulin, Alena Hil, Volha Maslouskaya, Tania Kandracienka, Aleksandr Kolominoff, Vasilisa Palianina Volha Prankevich Sasha Radchikov Sergey Shabohin, Igor Tishin, Raman Tratsiuk,
Flag Anti-Aesthetic Slogan
---
Sergey Shabohin:
flag Anti-Aesthetic Slogan,
2011 (version 2020)
Curatorial project / group exhibition:
ID: E20.6
B.A.R.
(Belarus. Art. Revolution)
Sentember 25 — October 15, 2020

Kulturfabrik Moabit, Berlin, Belarus
Cultprotest.me, Zhanna Gladko, Uladzimir Hramovich, Alexander Komarov, Alexey Lunev, Angelina Mass, Marina Naprushkina, Ales Pushkin, Sergey Shabohin, Jana Shostak, Jura Shust, Raman Tratsiuk, Aleksey Naumchik, with the participation Viktoria Lomasko


Sergey Shabohin:
graphic series Martyrdom,
2020
Ein ganzes Land ist im Aufstand. Tausende Belaruss*innen demonstrieren seit dem 9. August 2020 täglich gegen Wahlfälschung, Lüge, Polizeigewalt und fordern den Rücktritt des Machthabers Alexander Lukaschenka. Auch in Litauen, Polen, Russland, Ukraine und Deutschland finden seit Wochen Solidaritätsaktionen, Menschenketten und Mahnwachen gegen Gewalt, Folter und Repressionen statt. Die kreative Szene in Belarus und im Ausland trägt durch neue weiß-rot-weiße Symbole, kritische Plakate, Performances und digitale Kunst zum Protest bei. Die Ausstellung "Belarus. Art. Revolution" dokumentiert die Wiedergeburt der belarussischen Künstlerszene und präsentiert eine Sammlung von Werken belarussischer und ausländischer Kunstschaffende, die den Protest auf den Straßen und im Internet begleiten.

Im Ausstellungsraum befindet sich eine Bar, die während der Covid19-Pandemie geschlossen bleibt.

Curatorial project / group exhibition:
ID: E20.8
July 21 — October 18, 2020
Galeria Arsenal, Bialystok, Poland
Nikita Kadan, Sergey Shabohin, Monika Szewczyk, Eliza Urwanowicz-Rojecka, Natalia Vatsadze
AntiGonna, A.R.Ch., Mirosław Bałka, Yevgenia Belorusets, Rafał Bujnowski, Hubert Czerepok, Anna Daučíková, Zhanna Gladko, Kote Jincharadze, Nikita Kadan, Zhanna Kadyrova, Aleksei Kazantsev, Alina Kleytman, Dana Kosmina, Tamar Nadiradze, Marina Naprushkina, Ara Petrosyan, Agnieszka Polska, Vlada Ralko, Guia Rigvava, Sergey Shabohin, Guram Tsibakhashvili, Alesia Zhitkevich, Natalia Vatsadze & Ekaterine Ketsbaia, Paweł Żukowski
Neon sign Pyramid of Alienation
Sergey Shabohin:
neon sign
Pyramid of Alienation,
2020
The intent behind the exhibition Fear is to analyse the title phenomenon, omnipresent locally, regionally and globally today. It would seem that progress of science and technological development ought to enable an improved sense of safety, a capacity to assess risk and threats, and overall efficiency in handling them. Why then do we increasingly often refer to a so-called "culture of fear"? Why has fear become an inseverable part of our daily life, holding sway over social imagination?

While theoretical and real threats occasionally converge, sometimes they drift apart. Every so often they are distant rather than direct – yet i.a. the media impact may make them seem familiar. How do they influence the actual content of fear, its form, extent of radicality, and manner of expressing it? Does fear have a paralysing effect, or spur us into action? Are potential reactions to fear emotional or rational?

Mental predispositions, gender, age, social class, education and upbringing, religion and faith, as well as individual experience and social norms may all be of paramount importance to what we are afraid of and/or how we react to fear. What other factors and processes influence the presence of and reactions to fear? Should we consider attempts at assessing contemporary reality essential – or should importance be attached to the perception, appraisal, or prognoses concerning the future?

The climate of anxiety, uncertainty, danger, the air of threat, sense of the unexpected or unpredictable, moral equivocality, atmosphere of distrust, exaggerated reactions, panic – what and who impacts the language and or symbols of the "culture of fear"? Does the omnipresence of fear in common public debate serve to tame the issue, build its awareness, normalise the language and symbols required for its interpretation – or does it make fear commonplace, clichéd, and prevalent? Or is possibly the reverse true: does the omnipresence of fear result in its escalation?

Control, regulation, management, faith in human agency, the value system – what impacts the level of fear and ways we handle it?

More and more frequently, fear determines our individual and collective experience. On the one hand, the phenomenon is global in nature. On the other, it would be worth our while to approach it through the prism of regional specifics and given geographical and cultural context. Is the form of fear impacted by historical-and-cultural conditioning? Can the structure of fear be in any way associated with the development of a new world order following the downfall of communism in Eastern Europe and in view of the condition of so-called post-communist countries? Is that structure thus governed by local/ global logic? Are there any fearless individuals out there? Is fear political? The exhibition seeks responses to such questions in a field highly sensitive to our reality – in the field of art.
Exhibition and accompanying program implemented within The East Culture Festival / Other Dimension
June 24 — October 11, 2020
Galeria Labirynt, Lublin, Poland
Archiwum Protestów Publicznych (Agata Kubis, Marta Bogdańska, Karolina Sobel, Adam Lach, Chris Niedenthal, Wojtek Radwański, Rafał Milach), Mirosław Bałka, Edna Baud, Anatoly Belov, Pamela Bożek, Przemek Branas, Karolina Breguła, Ivan Davydenko, Ewa & Adele, Sean Fader, Ludomir Franczak, Gabryś the Prince, Daniil Galkin, Martyna Gart, Jakub Gawron, Gilbert and George, Wojciech Gilewicz, Mikołaj Grabowski, Igor Grubic, Aleksandra Ignasiak, Bartosz Jakubowski, Marta Jalowska, Anna Jankojć, Marcin Janusz, Edka Jarząb, Sara Herczyńska, Łukasz Horbów, Nikita Kadan, Kamil Kak, Anton Karyuk, Anastasia Kashtalian, Filip Kijowski, Bartek Kiełbowicz, Łukasz Konieczny, Paweł Korbus, Jerzy Kosałka, Daniel Kotowski, Jan Kowal, Grzegorz Kozera, Kornel Leśniak, Paweł Leszkowicz i Tomasz Kitliński, Krystian Lipiec, Izabela Maciejewskia, Marta Maliszewska, Jarosław Mankiewicz, Krzysztof Marchlak, Rafał Milach, Kei Miller, Danuta Milewska, Anna Nawrot, NO_PIC_NO_CHAT, Anna Nowakowska, Krzysiek Oleksiak, Maciej Pałka, Magda Piekarska, Liliana Piskorsk, Liliana Piskorska, Jacek Poniedziałek, Gabryś the Prince, Karol Radziszewski, Józef Robakowski, Daniel Rycharski, Sergey Shabohin, Alicja Sienkiewicz i Kaja Zmysłowska, Karolina Sobel, Magdalena Sobolska, Bart Staszewski, Przemysław Stefaniak, Syreny TV (Ewa Majewska, Aleka Polis), Elwira Sztetner, Agata Sztorc, Tajskie Kwiatuszki (Barbara Gryka i Filip Kijowski), Mariusz Tarkawian, Waldemar Tatarczuk ft. Agata Wiatr, Mariusz Tarkawian, Paweł Tomaszewski, Grzegorz Tomczyk, Filip Tułak, Maciej Tuora, Katarzyna Tużylak, Sebastian Winkler, Bartosz Wójcik, Katarzyna Wójtowicz, Bożna Wydrowska, Katarzyna Wyszkowska, Monique Yim, Hubert Znajomski, Paweł Żukowski

Niezrzeszeni Studenci (Julia Adamska, Monika Bryk, Joanna Bury, Roberto Cura, Kamil Druk, Krzysztof Fischer, Weronika Guenther, Marta Jabłońska, Marta Kaczmarek, Sonia Kaźmierczak, Joanna Klikowicz, Mateusz Kowalczyk, Rafał Kruszka, Anna Nowakowska, Anna Olejarczyk, Paweł Olejnik, Krzysztof Oleksiak, Oskar Pawełko, Zuzanna Pietruszewska, Julia Podborączyńska, Aleksandra Sieczko, Katarina Šimeková, Julianna Wińczyk, Weronika Zalewska)


Is it necessary in the 21st century to keep repeating that a human being is a human being regardless of their origin, skin colour, gender, sexual orientation or any other traits? The answer to this question no longer seems obvious when the president of the country states: "They are trying to persuade us that LGBT are people, but it's an ideology", and his electoral campaign staff member adds: "Let's protect ourselves from LGBT ideology and let's stop listening to these idiocies about some human rights, or some equality. These people aren't equal to normal people, end of discussion."


The exhibition "We Are People" reacts to the current developments and threats that they entail. When leading politicians make statements that challenge the inherent equality of all people and question what should remain unquestioned, it is hard to remain indifferent. "Auschwitz did not fall suddenly from the sky", as the historian, journalist and former concentration camp prisoner Marian Turski remined us in his recent speech. It began with small, seemingly innocent steps, such as the so-called "ghetto benches" for Jews at universities. Thus, slowly and silently, evil creeped in, adopting its most gruesome form. A classroom bench – nothing serious, after all, we can pretend nothing is happening and carry on living… Later came the ban on using swimming pools, shops, public places… We know all too well how it ended.


We are currently turning a blind eye on many hateful statements from politicians, laying the blame, for example, on the heated public debate on the eve of the elections. When we fail to protest, we come to terms with such statements, we let them exist. "Monsters exist, but they are too few in number to be truly dangerous. More dangerous are the common men, the functionaries ready to believe and to act without asking questions" – wrote Primo Levi. A treatise on the banality of evil was penned by Hannah Arendt. Her words still ring true: "Evil is banal because it may go unnoticed, one may not think about it, it can be multiplied infinitely while concentrating on something else."